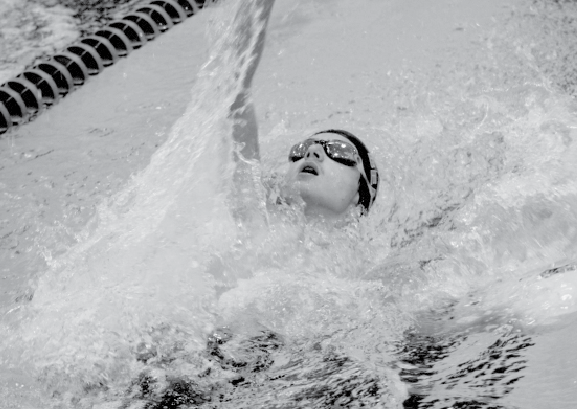 Bodie Mangels
With one meet and one invitational under their belts, the swim season is underway and under the leadership of new head coach Drew Butler and assistant coach Larry St. Hilaire.
Saturday's Benson Invitational pit the boys and girls teams against five other teams: Omaha Central, Omaha North, Omaha South, Bellevue East and Omaha Benson. While the boys fell to the other schools, the girls came in fourth, beating the Vikings and the Bunnies.
Key athletes for the girls were sophomore Isabel Stewart placing 4th in the 50 meter freestyle and 5th in the 100 meter breast stroke; sophomore Ruby Nelson placing 4th in the 100 meter freestyle and 6th in the 200 meter freestyle and freshman Reni Cimatoribus placing 5th in the 200 meter freestyle and 7th in the 100 meter back stroke. The girls also earned 3rd place in their 200 meter Medley Relay with a time of 02:26 and 2nd place for their 400 meter freestyle relay.
"The girls this year are more dedicated, at least the ones coming to practice," Stewart said. "Overall, it's going to decrease our time as a whole."
While the boys team didn't place, several individuals did have success. Micah Heyen placed 9th in the 50 meter freestyle and 8th in the 100 meter freestyle; Blake Moore placed 12th in the 50 meter freestyle and 10th in 100 meter butterfly; Conner Brandon placed 10th 100 meter Beast stroke Gabe Kula 13th 50 m free 11th 100 m free Mitchell Gates 13th 100 breast; Jimmy Jacinto 8th 200 free
The 200 meter freestyle relay team earned 4th place with a time of 1:56:33.
Just two days before the invite the team had their first meet of the season, a dual against Omaha South. The team ultimately came up short with a girl's score of 61-116, and a boy's score of 71-89. However, assistant coach Larry St. Hilaire believes that the swimmers learned a lot from the meet and says they will use the experience to get better.
"The team did really well for the first meet," he said. "There is a lot of fundamentals that we have to go back and review and see what kind of coaching techniques stick with the swimmers."
And while they haven't seen meet wins yet, the team has already noticed improvement under Butler's coaching.
"He teaches us the techniques of swimming and the fundamentals of swimming and not just making us swim a lot," sophomore Joaquin Urias said after the duel against South. "Last year I ended the season with 32 seconds but after this meet I dropped two seconds off my time."