Musical featuring giant, alien plant pushes cast to new heights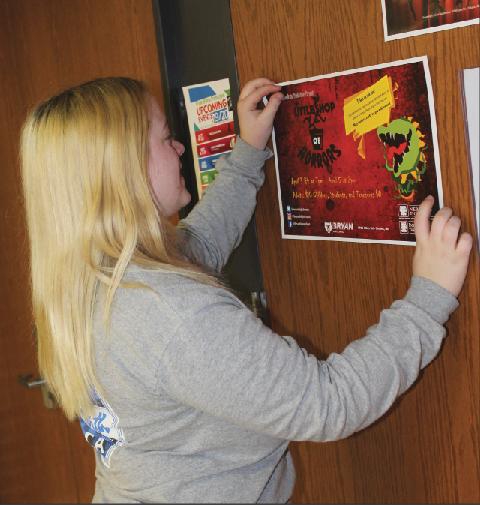 From having a dingy scenery recreating a New York alleyway called Skid row, to having a giant alien plant, this year's spring musical, "Little Shop of Horrors" will have a ton of new and challenging factors.
The show will be on April 3 and 4 at 7 p.m. and on April 5 at 2 p.m. Admission for adults will be $10 and for students, children and teachers it's $8. The leads for this show will be seniors Taylor Richman and Shemar Toussaint.
"Little Shop of Horrors" is about a florist, Seymour, who finds a new plant. Seymour realizes that the plant is not of this world, because it has a desire to eat humans.
"It gives the students a good opportunity," drama director Jodi Hazuka said. "It's got some hard music in it and it's got some interesting acting challenges."
Some challenges for the show are puppeteering and working around the school's construction. They aren't getting the Audrey II, the alien plant, puppet for awhile so the actor will have to learn fast. With the construction it has been difficult to build sets over the course of the show.
"We do one thing and then it gets completely destroyed," Hazuka said.
For several actors in this show, theater is a new experience.
"I really love all the people here because they're like me, they're energetic and so happy all the time," sophomore Cassandra Widman said
Not only are the actors excited, but the director is as well, since it's a big name show that many people have heard about and love.
"'Little Shop' was never on my list of shows that I thought I would direct because that was kind of out of reach," Hazuka said.