Head coach holds athletes back to push them forward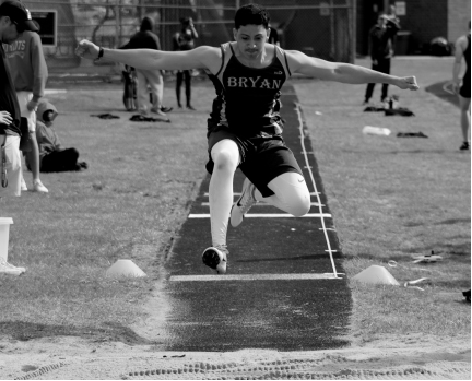 When somebody is told they aren't good enough to do something, it can go one of two ways. They either give up and quit, or shake it off and keep pushing to get better. The latter is what track and field head coach James Parks Sr. wants for his team.
This year, the track and field team consists of 30 athletes, but only a few of them have been allowed to compete at the varsity level, while the majority have been competing at the junior varsity level. It is all part of Parks' vision for the team.
"It depends on how the kids do," Parks said. "They have standards they have to meet- varsity standards. With our varsity standards they got to meet them week to week."
On April 5, at the Omaha Benson Invitational, only four athletes were allowed to compete as members of the varsity track team. Out of all the athletes, these were the only ones who were meeting varsity standards according to Parks.
Work ethic, attitude and positive behavior traits are what Parks looks for in his athletes.
"If I get a call from the teacher telling me the kid was mouthing off in class, then they won't run the next meet," Parks said. "I could care less if he is the best kid on the team, he won't run, plain and simple."
Next year, Parks is hoping to have at least 30 to 35 athletes on varsity. In order to have that, he needs at least 50 kids to join the team.
"Right now, the focus is not really varsity," Parks said. "We got a lot of young kids. The focus is just on the kids themselves."
Athletes are currently working on proving themselves so they can compete at the varsity Bellevue West invitational on Monday.