2019 yearbooks to be distributed Wednesday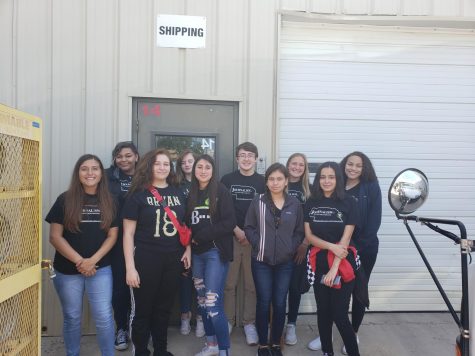 The 2019 Crusader yearbook will be available for pickup starting tomorrow at 7:25 a.m,  Students who pre-ordered and paid for their books already need to bring their student ID or state ID, such as a drivers license or their receipt to room 101 before school, during lunch or after school to get theirs.
For students who did not pre-order, there are a limited amount for sale for $55 cash only, which are also available in room 101 during those times.
The book's theme is "Whoever Thought."
Inspiration for the book came from the yearbook staff's desire to show the community that there is more to Bryan students and staff than some of the negative things the media and some community members think of when they think of the school.
"I think it [the theme] was a really good idea because it shows the side of Bryan that no one really sees," Crusader Editor-in-Chief, junior Olivia Rickley said. "It shows that Bryan can impress people—leave them in shock with the accomplishments they receive."
In addition to proving what Bears are made of, the group made it their goal to make this book different from what they had done in the past.
"I liked how it wasn't just normal stuff you'd see in a book, it included others' opinions and thoughts on certain things," Crusader staffer, sophomore Yaret Lopez De La Cruz said. "It involved everyone from our school and allowed others outside of the school to get to know the students and school more. I like knowing that others can learn more about our school just by looking through the book."
Another feature to the 2019 book that is new is a green, satin ribbon bookmark.
"I think the bookmark is important because it gives a good contrast against the grey cover, its also a feature that has never been seen before at Bryan," Rickley said.
The yearbook staff created the 207-page book and 24 page supplement in a matter of seven months and are excited to share their project with. The school and their peers.
"Im most excited about seeing the smiles on students when they see the funny memories of them or their friends," senior staffer Christopher Morales said.