School newspaper, eight students earn awards at JEA/NSPA Nationals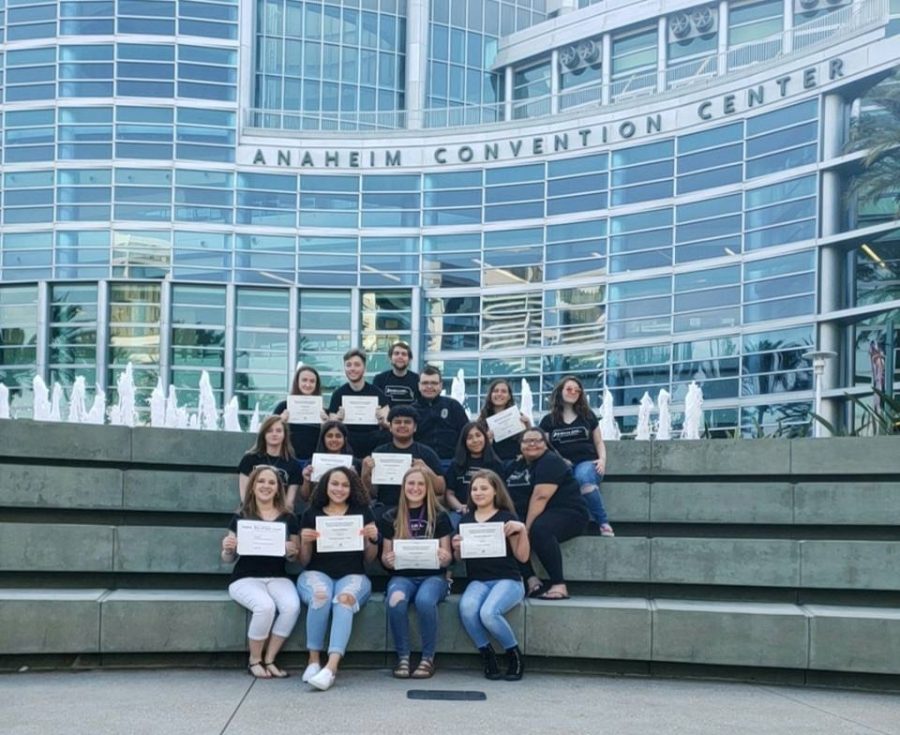 This year's JEA/NSPA Spring National Journalism Convention in Anaheim, California brought several
awards for the journalism department. Not only did eight yearbook and newspaper staffers place in
individual competitions, but The Orator won third place in Best of Show for tabloid newspapers 16 pages
or fewer.
Junior Olivia Rickley walked away with a Superior in Yearbook Copy and Caption Writing in Academics.
Seniors Adriana Martinez and Chris Morales and sophomores Alyssa Williams and Sophia Rubenstein
won Excellent awards in Review Writing, Themed Photo, Yearbook Copy and Caption Writing in Clubs
and Yearbook Layout: Theme, respectively.
"I'm happy I won an award because from the three years I went I got close to winning, but I didn't quite
make it," Morales said.
Juniors Ashley Roth and Marcelino Morales and sophomore Mariam Zahid received Honorable Mention
in the individual categories of Yearbook Layout: Inside Pages, News Writing and Feature Writing.
"I think I have improved so much," Rickley said. "I went from not being very invested to completely
invested and skilled. Having a lot of dedication become big for me and it has not only gotten me awards
but helped me step out of my comfort zone."
The journalism team, which included yearbook, newspaper and digital journalism, saw improvements
from the fall convention in which The Orator placed eighth.
"It was a lot of emotions going at once, even though I was here for just a semester, I was able to be a
part of it," sophomore Alondra Soltero Bravo. "And getting to know that your stories where in the
newspaper that won it was cool."
The students who attended the convention also went to different sessions and got various hands-on
experiences. The sessions were taught by other journalists and advisers from around the country as they
gave advice to help high school journalists.
Still revving off the high of the spring convention, the journalism team is preparing for the 2019 Fall
Convention in Washington D.C.
"Last time they had convention in DC it was the most populated journalism convention in the history of
JEA/NSPA National journalism conventions, so I'm really looking forward to having more competition
there to see where we stack up and how we can grow even more in our program, " journalism adviser Ranae Duncan said.