Monster eatery thrilling for everything but taste buds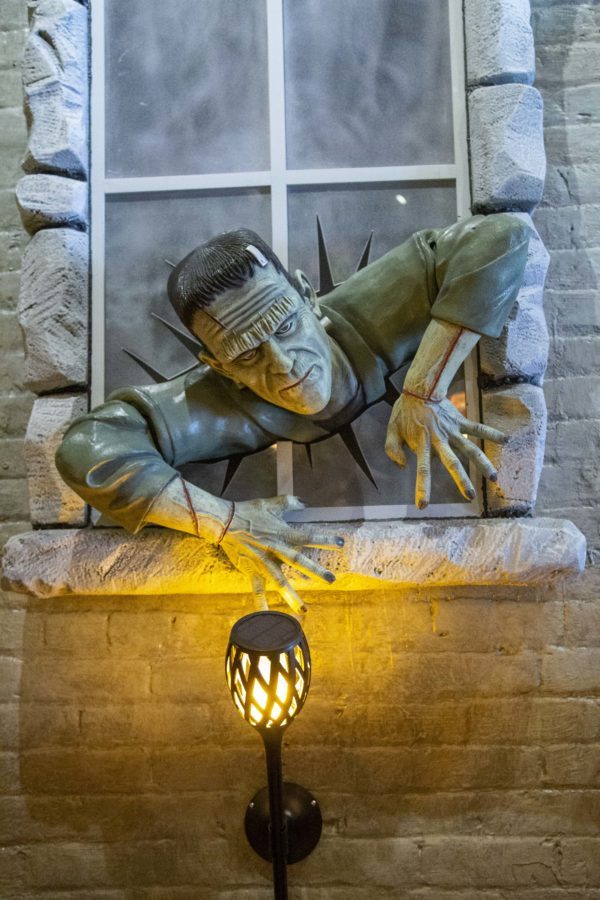 -Review-
Horror buffs and Halloween lovers alike need to stop and visit The Monster Club.
Monster club is a pub and grub located in the old market on Howard street. The Halloween themed restaurant is open to all ages till 9 pm, then it's 21 and older only.
While Monster club is overflowing with decorations and things to look at it can be overwhelming. Monster club is suffocating in size it almost feels like guests are dinning in a large closet.
Although Monster Club is awfully small, they utilize every inch of the building.
Picture collages of Halloween characters hang from the walls. There's spooky skeletons, vampires and other horror movie characters busting out of fake windows on the walls. They made comic strip collages for the lanterns on their ceiling.
The Halloween theme isn't lacking by any means, but the food department could use some improvement. I ordered fried pickles and a chicken Caesar salad. When the food came out, the flavor wasn't out of this world.
The fried pickles were crunchy and warm with a slight sweetness to it, which threw the whole appetizer off. The salad consisted of large pieces of fresh chicken, parmesan cheese, croutons and romaine lettuce. The chicken had no flavor whatsoever, the only hint of flavor was the char on the chicken.
The food and appetizers came in large portions which made the price worth it, majority of the food was priced around $11. Soft drinks include free refills which was convenient. Their menu is a bunch of play on words, so it runs with the Halloween theme; for example sandwiches are called sandwitches.
Even though the food is mediocre, the service was outstanding. Our waiter was super friendly, always had a bright smile on his face, answered any questions we had and constantly stopped to chat and joke with us even though the place was packed with customers. All the workers there were super inviting, which really added to the experience.
Monster Club has fantastic spots for pictures, whether it's selfies with the life size Pennywise statue or upstairs in the miniature Drastic Plastic, a record store.
Upstairs in Drastic Plastic is the best spot for pictures; there wasn't anyone up there when I went so it was a perfect time to take pictures. There are enormous windows that showcase the beauty of the old market and make a gorgeous background. There are different rock themed posters for decor.
People can even shop from the Drastic Plastic record collection and pass time while waiting for their food. They have a lot of older music to choose from there.
Overall the experience was wonderful. Though the food was bland and the restaurant was tiny, it's definitely a place everyone should visit. The decor and atmosphere put it over the top, making it a must visit for anyone.