Students, staff, community members work together to help those in need through Project Linus
Community comes together to help others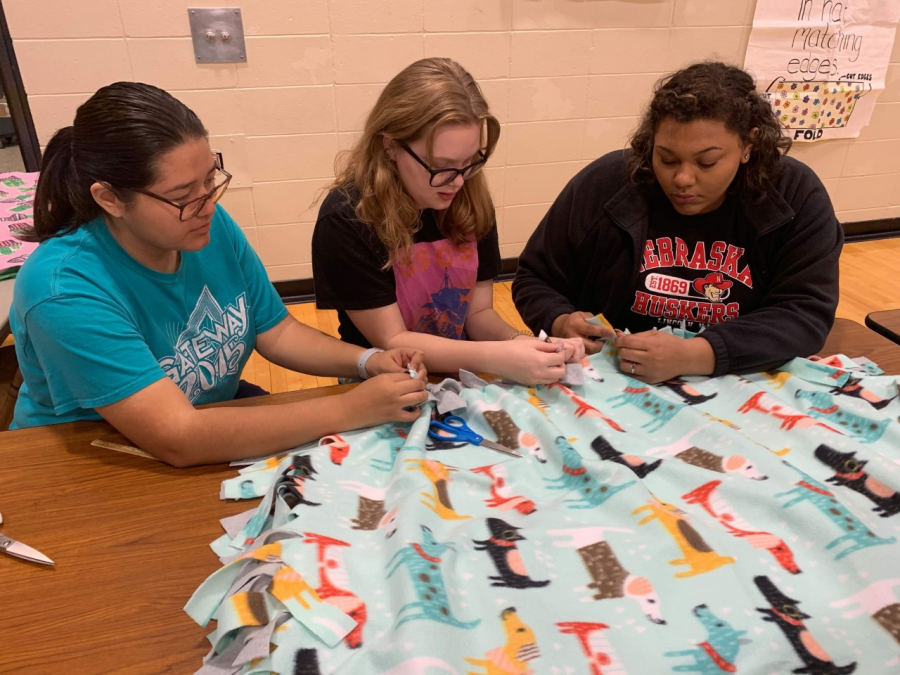 Over 900 blankets were made at the bi-annual Fall Project Linus with the help of National Honor Society (NHS) members, past alumni, students from other schools, staff and community members on Saturday Oct. 19.
The school has been hosting Project Linus– a non-profit that provides homemade blankets to children in need, for over 15 years. 
They have already donated more than 75,000 blankets to local organizations including hospitals, shelters, and social service agencies. More than 60 students came to help on Saturday alongside other staff and people from the community.
"It is an amazing organization that provides comfort for children who need it," an NHS sponsor Jennifer Cuddy said. "It is very rewarding and heartwarming to watch the students lead the community in creating something that will mean so much to a child in need." 
Those 900 blankets were made possible with the assistance of NHS students that had different tasks. It included setting up and tearing down all the blanket stations, carrying in and unloading all the visitors' materials and making blankets. 
"They are very easy to make, and directions are provided with handouts," Cuddy said. "It's just a matter of taking it step-by-step and following a few simple directions. Once you make one, it's very easy." 
The blankets that are made are, fleece tie blankets. The process includes different stations like making the blankets, placing tags after they had been made and then folding them up and packing them as a team.
"You might think something as simple as making blankets is nothing, but it can make someone's day better just knowing you're thinking about them," junior and an NHS member Kasandra De La Cruz-Gutierrez said. 
Previous graduates also came and helped out with Project Linus. Esmeralda Rodriguez-Menjivar, 2019 alumnae, was asked to come for the Association of Latino Administration and Superintendents (ALAS) at the University of Omaha. 
"I was once able to witness some children receive homemade blankets during their most traumatic difficult times," Rodriguez-Menjivar said. "It feels comforting knowing the fact it's the least we can do when they're enduring difficult times." 
Rodriguez-Menjivar was also the President of NHS last year. She loves to give back to the community that has given so much to her. 
"We can't forget our roots, so I love being able to come back," Rodriguez-Menjivar said.
NHS will host Project Linus next semester and make more blankets to help those in need. NHS will also be a part of Boo Bash– a safe way for kids in third grade or less to trick-or-treat, on Friday Oct. 25.  
About the Contributors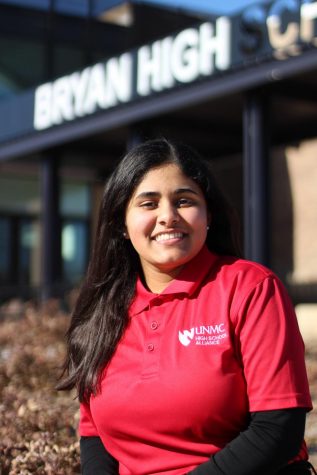 Mariam Zahid, Online Editor-in-Cheif and Copy Editor
Mariam Zahid is a junior and this is her second year on the Orator Newspaper Staff. This year she is one of the Copy Editors and the Online Editor-in-Chief....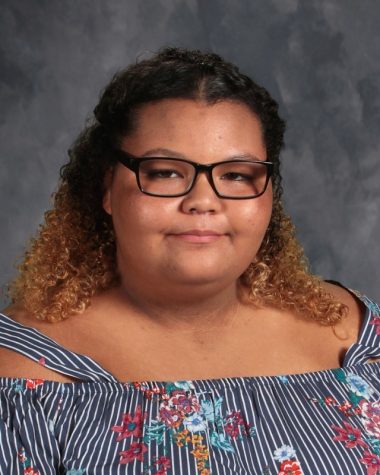 Keyana Burries, Co-Editor-in -Chief
Keyana Burries is currently a junior and this is her second year on the Orator staff. She is one of the Editor-in-Chiefs. As an Editor-in-Chief she is...