One small step for women, one giant leap for equality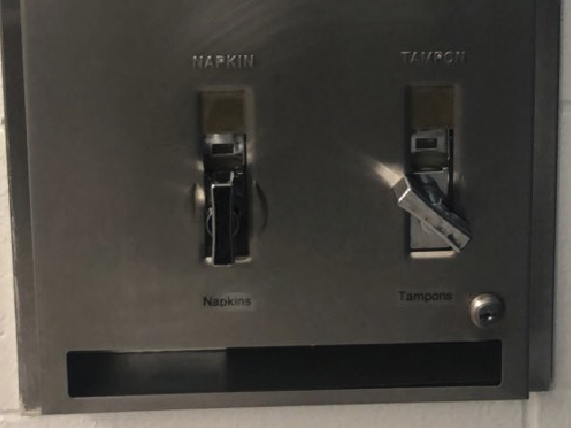 In a year, women spend an estimated $120 on tampons and pads and $20 more on medication according to Groundswell, a nonprofit that organizes community groups to help them establish clean energy supplies.
"It's too expensive," school nurse Lori Gruttemeyer said. "Once again, if it was [for] a man it would be cheap. Like, they give out condoms free, why can't they give out tampons, and that, free?"
Menstrual products are classified as a medical devices, but in many states are deemed a non-necessity so they are not tax free like prescribed medications are. This tax, called the pink tax, is controversial as it increases the price of women's hygiene products.
"It's disrespectful, obviously, on many accounts," senior Mireya Conde-Ramos said. "It's wrong, extremely wrong."
organizations have taken steps to help women out, such as the University of Nebraska at Lincoln. Since 2007, tampons and pads have been freely provided in women's rest rooms at the university. In January of 2018, The Association of Students of the University of Nebraska (ASUN) passed a bill for free female hygiene products, but they are only in buildings supported by school fees.
"I think it's great that free pads and tampons are readily available on campus," UNL sophomore Gabrielle Becton said. "Just about every girl has been caught off guard and has needed a last minute tampon or pad, so it's nice to have that option there. Having them readily available also shows that the university cares about the women on campus."
The University of Nebraska at Omaha also has some rest rooms that provide free sanitary products.
While the high school does not have free machines in the rest rooms, free pads and tampons, purchased by Gruttemyer using her own money, are available in the nurse's office for girls who find themselves in need of one.
"I think it's kind of disappointing how our nurse has to pay for something that should be considered a necessity," sophomore Ruby Contreras said. "Instead of spending all the school's money paying for extracurricular activities, the school should first invest in what is needed like feminine products."