"Essential" teenagers share work experiences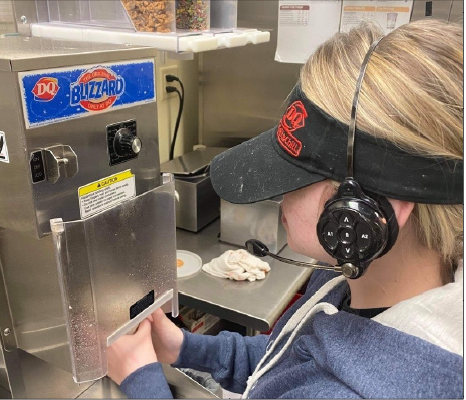 Living during the pandemic has been different for everyone of all ages, but especially teenagers. While some teens picked up a new hobby, others were out working to make living during the pandemic easier.  Three students who worked hard during the pandemic all had very different experiences, but they all agreed that their work was very rewarding in the end.

"I was never scared of working because Walmart has taken all the proper safety precautions, they made sure people were social distancing and wearing masks," junior Deshawn Pluth said. "The pandemic made working easier in the long run because it was easier to connect to customers because we had something in common right away, living during a pandemic."

Senior Isabella Carbajal felt as though working in the middle of a pandemic was like living inside a movie.

"I want the world to go back to "normal," but the more it continues, the more afraid I am that life will remain the way it is now," Carbajal said.

Carbajal started out as a barista at Dunkin Donuts, but shortly after switched jobs to become a cashier at Walmart. She transitioned from Dunkin Donuts to Walmart when her parents started having concerns about her safety.

"The hardest part was remembering that life isn't like it was before," Carabjal said. "While the pandemic has been taxing on me, I feel like it has done some good. Workplaces are now being properly cleaned and sanitized and workers are being monitored for signs and getting their temperature taken."

Sophomore Natalie Besta, a crew member at Dairy Queen, said she felt overwhelmed when wearing a face mask at work, because it made her feel overheated and it made doing her job more difficult for her.

"It was hard to stay motivated because everything was so new and scary," Besta said. "Working during the pandemic has made me grow up and realize that people are  being affected by my actions in the workplace."