Nebraska officials combat human trafficking across the state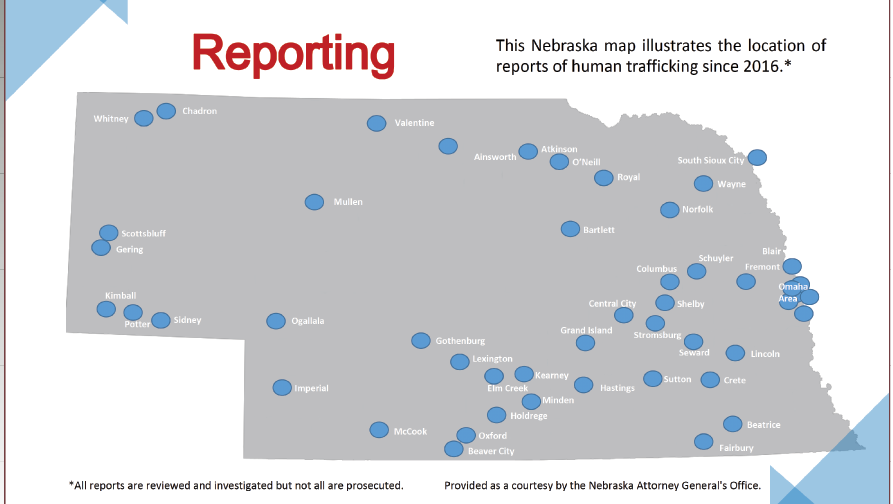 Justin Diep, Copy Editor
October 30, 2020
Garnering over 3.4 million posts on Facebook, the #saveourchildren and other hashtags alike have gained nationwide attention to shed light on the issue of human trafficking.

"No matter how many times people say posting about save our children won't make a difference, it will because actions and words make a difference in this world," sophomore Dana Salazar-Salcedo said.

Officials here in Nebraska say they are aware of human trafficking in the state and have been combatting it for years.

"We do know sex and labor trafficking happened regularly in Nebraska and not just in the big cities, but across the state," Nebraska Human Trafficking Task Force (NHTTF) Coordinator Glen Parks said.

The Nebraska Attorney General's Office who oversees the NHTTF said since 2016, 48 cities and towns including ones in the Omaha area and across the state had at least a preliminary investigation into cases of human trafficking.
"Some of these turned into convictions," Parks said. "Some others, after initial investigation, were closed due to lack of evidence, but they all began with enough evidence and credibility to justify an investigation."

It is unclear how big of a problem child trafficking is, as the FBI nor the Omaha Police Department (OPD) have exact statistics regarding trafficking. OPD said they are unaware of any children going missing under suspicious circumstances, currently.

"Specific statistics regarding the number of children that are trafficked sexually in the U.S. remains difficult to calculate due to misidentification of minor children as adults, varied classification of criminal incidents by local law enforcement particularly those incidents involving a child and extra measures taken by traffickers to ensure minors are not contacted by law enforcement," Omaha FBI Public Affairs Officer Amy Adams said.

Shared Hope International, a nonprofit dedicated to preventing sex trafficking and to restore and bring justice to victims of sex trafficking, gave Nebraska a grade A for response and prosecution in 2019. It was an improvement from the F the state received in 2011.

"This is the result of teamwork," Nebraska Attorney General Doug Peterson said in a press release. "The legislature has provided improved laws in efforts to deter traffickers and protect victims. The Nebraska Human Trafficking Task Force partners have worked hard to address trafficking across Nebraska. I am proud of our state and am grateful for the tools we now have to confront human trafficking in Nebraska."

The Nebraska Department of Health and Human Services defines human trafficking as the recruitment, harboring, transporting, providing or obtaining a person for a commercial sex act or for labor and services using force, fraud or coercion.

People who have encountered a human trafficker, are a victim or have any information regarding human trafficking are encouraged to call 911 if it's an emergency or the National Human Trafficking Hot line at 1-888-373-7888 or text "HELP" to 233-722.