Senior sells artwork as a fundraiser for college
Using acrylic paints, and an assortment of different brushes and a canvas, senior Sophia Rubenstein paints different portraits of celebrities, silhouettes and cartoon characters. She has been into art since she was a kid and has gradually grown, developing into the style of art that she uses now, going from chalk drawings to more detailed portraits such as her portrait of Marilyn Monroe.
"Art has always been one of my favorite hobbies, because it simply brings me joy," Rubenstein said.

She has painted a wide range of art, such as a portrait of Billie Eilish, to paintings of The Simpson's. Rubenstein has painted it all and has created a business out of it.

Rubenstein said art impacted her life by bringing many different opportunities, such as starting her own business. She started selling her paintings to help save up money for college. The pricing of each painting varies on the size. 
"It's been going pretty good," Rubenstein said. "In fact, I'm almost up to $2000 added up from the last couple months."

Rubenstein just always had a natural hand at art, which was noticed by the people around her since she first started on her artistic journey.
"I noticed Sophia had talent from the time she could hold a crayon, she started off pretty early with patterns, then her sketches of people were way more advanced for a child three years of age," Rubenstein's mom Gina Todero-Lewis said. "I have always encouraged her to try new things and supported her creative side."
About the Contributor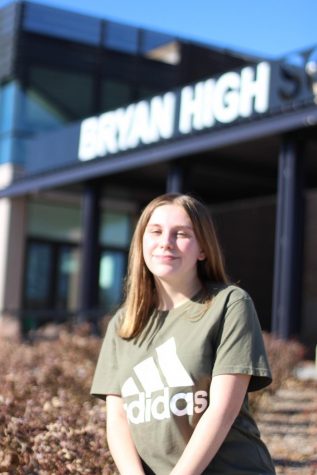 Makenna Smith, Reporter
Makenna Smith is a sophomore and a reporter on the Bryan High Orator. It's her first year on staff. She's excited to try something new and enjoying her...