Gym fights back against COVID-19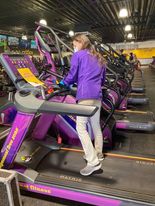 During quarantine many people lost motivation to stay fit by themselves. Not being able to go to the gym gave a lot of people reason to not work out.
Now gyms are reopening and taking safety precautions to keep gym members healthy and safe. But because gyms are social, that may scare some away from returning.
"We take safety protocols seriously by wiping down equipment, installing cleaning stations and closing down some machines to practice social distancing," Planet Fitness personal trainer Miguel Dominquez said.
Local gym's often have professional equipment that is difficult to replace at home. The things a gym can offer can often be difficult to replicate at home due to the expense of equipment and there typically being less room in homes, so gyms are doing what they can to make their facilities safe for customers to come back.
"Some things have changed, but not everything," Dominguez said. "I think people are starting to open up to coming to the gym after seeing how we've made it a safe and comfortable environment."
Planet Fitness cleans all of their equipment after use, social distance, enforces masks while on the floor and inside and encourages the use of hand sanitizer.
"Citizens are respectful and understand that safety of staff and others. There's rare occasions where someone will refuse to wear a mask and are asked to leave," Dominquez said.