Local food delivery service launches, helps local restaurants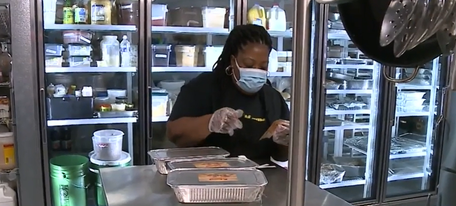 Tired of paying large order fees and high delivery fees to have food delivered by a chain food delivery service that doesn't promote Omaha's economy much? Well, there is a new option for Omahans. Omaha LoCo is a locally owned food delivery service that works to promote local businesses.
OmahaLoCo is a food delivery business that was founded in February of 2021.
"It gives the restaurants a competitive advantage to own their own service," Seaman said. "We have a lot of restaurants that are now able to try out this delivery service and generate more income so it's pretty cool."
There are around ten people working together to get things done. They currently deliver for around 26 places including: 402 BBQ, Hook & Lime, Noli's Pizzeria and more. They could've had around 100 places by the end of March if it wasn't for the way COVID-19 changed things with onboarding, which is the process of adding a restaurant into the delivery service.
Customers have been reacting positively to this new business. DoorDash, GrubHub, and the other big name delivery businesses don't always deliver for those small local businesses, and even if they do, the commissions are often high and that makes things difficult for the local businesses. They also do not charge high commissions on each purchase to the local restaurants.
"(Customers) love it," Seaman said. "They know it's going to a good cause in regard to supporting local, and that's what everyone likes doing, it's been going really well. There's such a buzz and people are enjoying this whole process of being a part of something that's making a huge impact."
The people working at Omaha LoCo were introduced to a restaurant owner John Sewell in Iowa City, who came up with the idea for the local restaurants near him to make a make a delivery service. Three years later, there's around 150 restaurants involved and doing about 1000 deliveries a day.
They decided to start it up after the pandemic started, they've been working on it since last March, and weren't supposed to launch until February 8, 2021. The Douglas County commissioners reached out to them and said they (Omaha LoCo) could team up with 40 restaurants and come up with a meal program that would be for a family of four or more and work with pantries in town and deliver those meals. They got $500,000 dollars to go towards meals.
"From December to January, those two months are really key to a restaurant, because of parties (Christmas parties for example) but it didn't happen so this was a really good help to some restaurants," general manager and partner Clay Seaman said.
People can order food from them in multiple ways including their website: omahaloco.delivery . They also have an app available on App Store and Google Play store called Get LoCo.