Girls volleyball team beats longtime rivals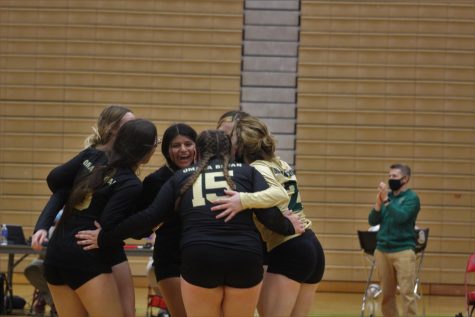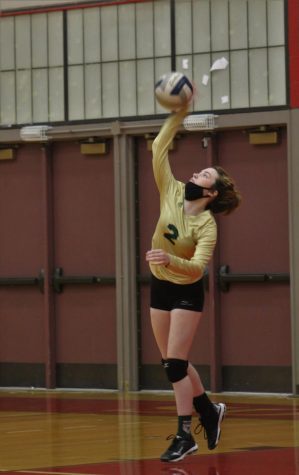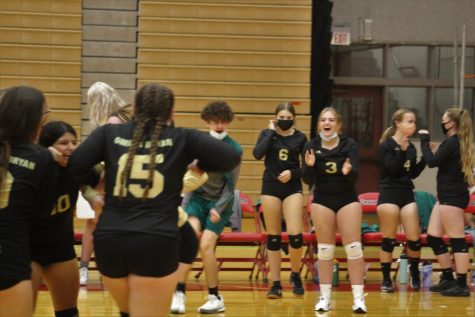 As the final score for the second set was displayed, 25-23, with the girls' varsity volleyball team leading the match by two sets, students from both sides began leaving the court oblivious that the teams would be playing two more sets due to the best three out of five rule for varsity. 
The girls' volleyball teams faced off against South High's volleyball teams on Aug. 31. The freshman team lost their match 1-2, but the varsity and junior varsity (JV) teams were able to beat their longtime school rivals, with the JV team winning straight sets 2-0, and the varsity team winning 3-1. 
Junior libero Michaela Painter aggressively dug, served and aced her way to leading the team to victory, earning her the title of player of the game. Painter also led the game with the most serving aces.  
"Honestly it felt relieving when we won," Painter said. "We played pretty well overall. We had some tough spots but I'm so happy that we were able to keep it together. It's something we've been working on in practice. Every little victory needs to be celebrated to keep our energy up, when I'm sitting on the bench, I get so excited when we make a good play and I cheer so hard when we get a point." 
Painter wasn't by herself in putting her all into the game. Juniors Jessica Conway and Brooke Reed also helped lead the team to victory. Conway leading the game with the most kills and blocks, and Reed leading with the most digs. 
"It's always a good feeling when we beat our rivals down at South High," varsity volleyball coach Nathaniel Novotny said. "I think our girls came into the game prepared and stuck to our game plan. We are starting to come together as a team. We want our girls to be pushed hard and prepared for any situation we might find ourselves in during a game." 
The next game will be a home game on Tuesday, Sept. 7.