Pro-Choice or Anti-Choice: the real abortion debate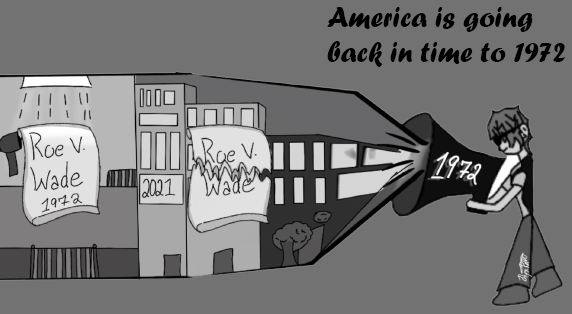 There are two sides to the abortion debate: pro-choice or pro-life. Everyone picks a side, but in doing so, they are making a CHOICE, and that's what the whole abortion debate really boils down to: pro-choice or anti-choice. Being pro-choice doesn't mean you're going to run around getting abortions left and right, it just means you want the ability to CHOOSE. And in making abortion illegal, you are stripping millions of people across the country from their right to choose.
On Dec.1, a case was brought to the Supreme Court that has potential to overturn Roe v. Wade, the case that legalized abortion. The case, Dobbs vs. Jackson Women's Health Organization, centers around a Mississippi law that would ban almost all abortions after 15 weeks of pregnancy.
They're arguing that the ban should be upheld, because "the US Constitution does not support a right to abortion." But by that logic, women shouldn't be able to vote, presidents shouldn't be able to be impeached, half the people in this country shouldn't have any rights, because the Constitution didn't "support" those rights either.
Just because something is not explicitly stated in the Constitution does not mean it is not a right. It would've been impossible for the framers of the Constitution to include every single right that people have; that's why amendments exist, to amend the Constitution to ensure that people get those rights they deserve.
Making abortion illegal also increases the risk of maternal death. The maternal mortality rate in America is already at 20.1 deaths per 100,000 live births, the highest of any developed country. If it was banned, it would increase by 21%, according to a study from University of Colorado Boulder.
If people really cared about lowering abortion rates, they would put more funding into places that offer things like contraceptives. If access to contraceptives becomes easier and more affordable, then the rate of unwanted pregnancies would decrease. If unwanted pregnancies decrease, then abortions would also decrease, because there would be no need for them.
Abortion is a constitutional right, and any law that places restrictions on it is unconstitutional. Women have the right to choose what they want to do with their body, and if it's made illegal, you are taking away our constitutional right to choose.