School, community remembers former principal Robert "Bob" Whitehouse
In honor of former principal Robert "Bob" Whitehouse, the Bryan High Stadium will be lit tonight from 5-9p.m.. A moment of silence will also be held before the varsity boy's basketball game this evening to reflect on his life and the impact he had on the lives of many.
Whitehouse passed away Jan. 22 from pancreatic cancer at the age of 77.
He began his 47-year career with Omaha Public Schools first at Omaha Central High School as a teacher and a coach. He later became an assistant principal and athletic director of Omaha South High School in 1972. Whitehouse went on to serve as Bryan Middle School's principal in 1983 and then became principal of Bryan High School from 1987 until his retirement in 2000. He continued to serve as a consultant and worked on special projects for the district.
During his tenure as principal, Whitehouse brought significant changes to the school climate including the 4×4 block schedule in 1994, which would turn into the AB block schedule used today. Now substitute teacher Thomas O'Hara, worked with Whitehouse during this time of improvement of the school.
"Mr. Whitehouse was very supportive of the Bryan staff's efforts to attempt to improve the delivery of our educational services for students," O'Hara said. "Bryan, with Mr. Whitehouse at the helm clearly stood out in OPS, in Omaha and in the state of Nebraska and Iowa."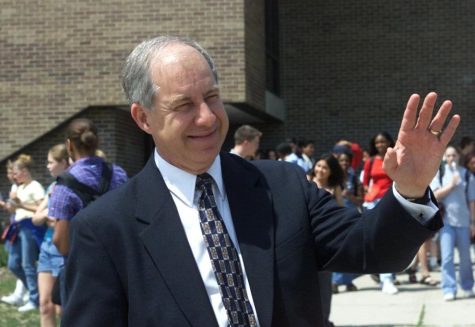 Alumni Ryan Pivonka believes Whitehouse's impact is felt in every educator including himself who now is the assistant principal at Ralston High.
"Mr. Whitehouse inspired countless current educators," he said. "They learned from his example of fierce advocacy and care for all students. All teachers and administrators, even if they didn't know Mr. Whitehouse, are doing their best to be like him because his example is the gold standard, the green and gold standard."
Assistant principal Melissa Gates remembers Whitehouse always interacting with the student body and their families when she was a student. He was often seen attending extra-curricular activities and talking to students the following day about their performances.
"He worked so hard to create a supportive and caring community for his staff and students," Gates said. "He sent all his graduates off at commencement with two messages: One, be proud of who you are and where you came from. Two, once a bear always a bear."
Alumni Lacey Merica believes the school pride Whitehouse put in her graduating class is something the current generation of students should keep with them.
"Mr. Whitehouse installed in us that we should be proud that we were a Bryan Bear," she said.  "That's something that today's generation of students should remember. Being a bear was the foundation of who you're going to be going forward."
After his time as principal, he served on the Nebraska Board of Regents and chairmen of the board twice. University of Nebraska President Ted Carter released a statement following the announcement of Whitehouse's passing.
"Bob was a public servant in every sense of the word," Carter said. "In each of his many roles – teacher, coach, principal, regent, volunteer – he approached every task with the singular goal of making a positive difference for students and our communities. Indeed, Bob was a teacher and coach to all who met him and learned from his kindness, humility and passion for service."
A service will be held tomorrow Saturday Jan. 28 at the University of Nebraska at Omaha's Thompson Alumni Center. Visitation will be held from 2-4p.m. followed by a memorial service. Memorials are suggested to Trinity United Methodist Church in Ralston or Nebraska High School Sports Hall of Fame. Heafey Hoffmann Dworak Cuter will be streaming the service on their website http://www.heafeyheafey.com/ for those who are unable to attend in person. Click on the "Live Cast" button on the top row to view the service live.