Prom to give vintage Hollywood vibes
Guests allowed to attend, spirit week, pep rally announced
The time has come for juniors, seniors and their guests to get ready to join their peers on the ballroom floor and dance the night away. Prom is less than one month away.
The event will be held on April 30, from 7-11 p.m. "A Night on the Red Carpet" will be the theme and will portray a vintage, Hollywood red carpet event. To help set the ambiance of the evening it will take place at the Durham Museum located at 8091 S. 10th St.
"The Durham has a Roaring 20's atmosphere to it with a lot of art-deco décor so it is the perfect place to host this year's prom," prom coordinator Ranae Duncan said.
One change from last year's prom is that guests from other schools will be allowed to attend, once more, now that COVID-19 restrictions have decreased. Bryan seniors and juniors are permitted to purchase two tickets, one for themselves and one for a guest. If their guest is from another school, or is a freshman or sophomore from Bryan, a permission form must be filled out and approved by administration prior to their ticket being purchased.
"Once we see that the administrator from the other school signs off on that, if they want to come to our prom, I'll look at that and go ok good, they're giving me the recommendation," assistant principal James Cunningham said. "Basically, in a nutshell you're getting the recommendation from their home school too attend that prom."
Permission forms must be submitted by April 28 and can be picked up in the main office or here. Tickets will be available for purchase April 25-28 for $25 for an individual, and $45 for a couple.
As for scenery, there'll be a red carpet as the runway leading up to the spot where coronation will be, elegant centerpieces, several photo opportunities and accents of red, black and gold. There'll be two rooms, one for coronation and a place to hang out and enjoy refreshments, and the other room, which is called the Swanson Gallery, will be the ballroom where the dance is.
"Me and the junior class cabinet put a lot of thought, work and effort into ensuring that everything ranging from decorations to spirit week were planned in advance with everyone being on board with the decisions made," junior class president Bryan Benitez said. "So, with that I feel prom will go amazing and it'll be one to remember."
Coronation will take place at 9 p.m. and voting, which will be limited to Bryan seniors only, will start at 7 p.m. and conclude at 8:45.
In mid-April seniors will be able to nominate their peers for Prom Royalty during advisement. The top five nominees for King and Queen who have a 2.0+ G.P.A. and have had no behavior referrals this school year will become the official Prom Court.
To help drum up excitement for prom, there will be a prom spirit week the week of April 25.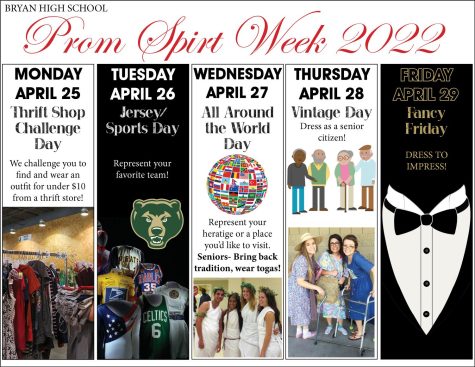 Monday will be Thrift Shop Challenge Day. Students and staff are encouraged to wear an outfit they purchased at a thrift shop like the Goodwill for under $10.
Tuesday will be Jersey/Sports Day where everyone should dress out for their favorite team.
Wednesday will be an All Around the World Day, which will not only celebrate different cultures, but will bring back a Bryan tradition where seniors wear togas.
"That used to be the biggest thing," Duncan said, "for Seniors it was togas no matter what on All Around the World Day. It was every year whether it was Homecoming or Prom. So, we want to bring back those old traditions, build up some of the school pride again."
Thursday will be Vintage Day. On this day, everyone is encouraged to dress as a senior citizen.
Friday will be Fancy Friday where staff and students should dress to impress.
In addition to spirit week, Student Council will be hosting a prom pep rally on April 29.
"Student Council felt that it was time for a pep rally and we decided that it would be a great time to get people excited for prom the following day," Student Council sponsor Rachel Allen said. "We want to bring in the connections for all of our students and share how proud we are of all the accomplishments in Bear Country."