Downtown Facelift
Popular downtown park to reopen after 3 years of changes
The home of the popular downtown slides, Gene Leahy Mall, will reopen this summer after nearly three years of construction.
The park's grand reopening will be on July 1. The opening weekend will feature family friendly activities, free entertainment and live music to celebrate.
Historically, the park was under utilized by the community. Christopher Koenig, project manager at HDR, an engineering and architectural firm, cited unclear connections between the mall and two other parks, lack of shade and inaccessibility as the reasons.
"Although they have been in place for decades, the three parks have failed to live up to their potential," Jay Landers, contributing editor to the Civil Engineering magazine by the American Society of Civil Engineers said.
The goal of the revitalization is to create a park Omaha residents will want to use.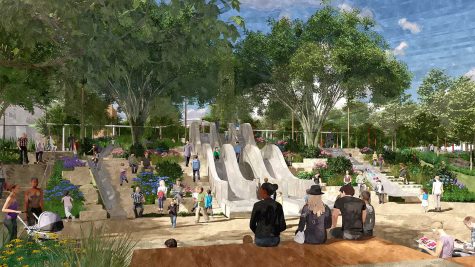 "Revitalization is centered on the impetus [push] for a more active place, with diverse social and recreational areas," the website of OJB, the lead architecture firm for the project, said.
New additions to the park include a performance pavilion, a new playground, interactive water features, a sculpture garden and a dog park. The slides will remain in their original location with two new ones being added.
"This amenity-rich, open space will create a sense of unity through thoughtful programming and enriching activities – all anchored by the scenic Missouri River and its resources," The RiverFront Revitalization website said.
The project is mainly funded by The Downtown Riverfront Trust (DRT). The DRT is used to collect funds and will contribute $265 million from private donors for construction costs and the City will contribute $50 million for capital improvements. The DRT and the City will also contribute $3 million to fund the operations/maintenance costs of the mall.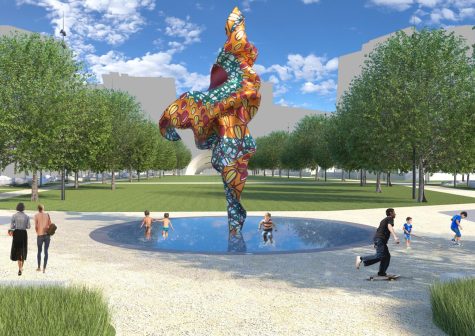 "I believe this will be one of the most significant projects in Omaha's history," Mayor Jean Stothert said. "It reflects the generosity of donors, the beauty of the riverfront and our faith in the future. The parks will be a destination for our citizens and visitors."
Supply shortages pushed the reopening of the park from Memorial Day weekend to July.
"The Riverfront has been battling them [supply shortages] along with everyone else," the Riverfront team said in a press release.
The Gene Leahy Mall will be the first part of the $300 Million RiverFront Revitalization project to reopen. Heartland of America Park and the Lewis and Clark Landing are scheduled to open later next year.