Education Secretary makes his way to Bear Country
Says school is a model of how CTE should be nationwide
U.S. Secretary of Education Miguel Cardona visited Nebraska Wednesday afternoon to see career and technical education (CTE) in action through the school's technical Career Academies and Pathways which are Urban Agriculture, Design & Construction and Transportation, Distribution & Logistics.
"We are honored by this opportunity," Omaha Public Schools superintendent Dr. Cheryl Logan said in an email to staff, students and families.  "It is a testament to Bryan High's leadership and our district-wide commitment to prepare all students for success in college, career and life."
The Secretary's visit is one of many President Joe Biden's cabinet members are conducting across the country following Tuesday night's State of the Union Address. The President mentioned the need to provide access to career opportunities to high school students across the county much like the Career Academies and Pathways OPS offers district-wide. Cardona referred to that message on his visit.
"Today, I'm seeing an example of what we need to see across the country to make sure we can meet the demand for those high-skill, high-paying jobs," Cardona said. "The Career Pathways here at the school are more evolved than most of the schools I've seen. They understand here, not only giving students  pathways that connect to careers outside of high school but pathways that give students real-world experience that can be transferred from one career to another."
Cardona toured the school and saw the career academies in action from students building frames in the Design and Construction academy to seeing how students in the Urban Agriculture academy take care of turtles, rabbits and plants. The Secretary even got some hands-on experience by holding the Urban Agriculture's turtle, Oogway.
"This was a great opportunity to share and highlight what our Urban Agriculture Academy has provided our students over the last 11 years," Urban Agriculture teacher Taylor Cooper said. "Our program has made some amazing achievements recently, so we're happy to share everything we do in the classroom to better prepare our students for college and careers. I know that Oogway was excited to meet with Dr. Cardona as well. He was attentive and could not wait to be held by him."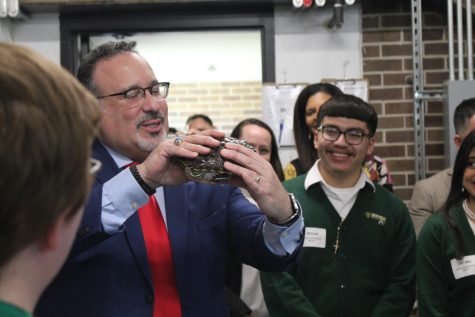 To create more of a student focus the Secretary's tour was led by senior Bryan Benitez and junior Fatima Davila. For Benitez, it was an opportunity he thought he would never get.
"I never in my four years in high school thought I would meet the Secretary of Education," he said. "It was a once-in-a-lifetime chance to talk to the highest-ranking educator in America and being able to talk about my amazing school and what it has to offer."
This opportunity was one Davila will never forget.
"I felt incredibly proud that he was going to be coming to our school and I was so grateful to be chosen to show him around our great school," she said. "It was really cool being surrounded by press and secret agents. I had never been around them before, but the Secretary was really kind and charismatic, which made the situation so much more comfortable and talking to him felt easy."
Following the tour, the Secretary sat down with more than a dozen students to talk about their experiences with CTE as well as with the school in general.
"It was truly visible how he loved academies and how he thought they made someone more well-rounded, which is completely true," senior Wendy Pacheco said. "He understands how academies put the hands-on experiences as a priority and it is needed in other classes as well."
Many of the students on the panel spoke about the quality education they've received from quality educators. During the roundtable, Benitez spoke about his close relationship with social studies teacher Thomas Allen, which prompted the Secretary to briefly meet with him before leaving the school.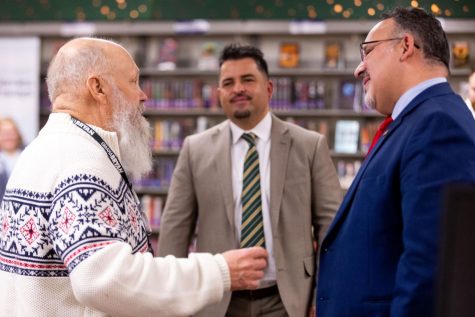 Pacheco, like other students, enjoyed the Secretary recognizing the work the staff puts into running the school.
"It made me feel like the amazing teachers we have are finally being seen, even if it's just for a moment," she said.
After the Secretary's visit to the school, he traveled to Educational Service Unit #3 in La Vista, Nebraska. There he spoke with school leaders across the state about mental health services with schools, particularly within Nebraska's rural communities.
As a former #CTE student – you know I'm always going to have a special place in my heart for strong career education & making it a priority.

In Nebraska, I got to get back into a CTE classroom & relive some of the lessons that made me who I am. Great work Bryan High! #CTEMonth pic.twitter.com/u7jUSDpxb2

— Secretary Miguel Cardona (@SecCardona) February 8, 2023