Board Appoints Interim Superintendent, search for Logan's replacement continues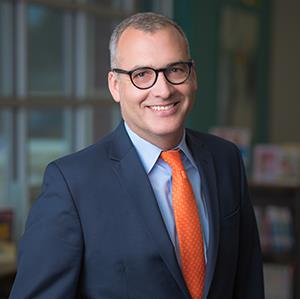 Deputy Superintendent Matthew Ray will fill in for Superintendent Dr. Cheryl Logan as interim superintendent until the district selects a permanent superintendent. 
"We know this is a critical time for Omaha Public Schools and work cannot be paused for a transition," OPS Board Vice President Rickey Smith said during the Board's Feb. 22 meeting. "We must keep moving forward for the success of our students and staff." 
Ray's career with OPS started in 1999 at Ashland Park-Robbins Elementary School as a teacher. He substitute taught throughout the district before moving to the Teacher Administration Center (TAC) to serve in a variety of roles including leading the implementation of Infinite Campus, the student information system, for the district. He currently serves as Deputy Superintendent and Secretary to the Board of Education.  
The board approved expanding his current role through the rest of the school year to make the transition seamless. One of these changes will be attending all the high school graduation ceremonies alongside Logan. As interim superintendent, his main role will be ensuring the district stays on course while searching for a permanent superintendent but will not be part of the selection process itself. 
"It's not a change to the roadmap that we've already established with the Strategic Plan," Ray said. "It's keeping things moving and making sure we're still on those guardrails of the Strategic Plan, so the classroom teacher doesn't see a change, that there's not some new direction, there's not somebody with a new idea just to implement in a year." 
Ray cited the district's Strategic Plan of Action as a way OPS can keep moving forward during the leadership change. He helped develop the Strategic Plan of Action, which the board approved in February 2020. The document was developed to set the values and goals of Omaha Public Schools through 2025. 
"It's really meant to be that guardrail during this transition so the whole organization is focused on that one document rather than something somebody else might think is fascinating," Ray said.   
Ray will be eligible to become a candidate for the permanent superintendent position after a nationwide search is conducted later next year by GR Recruiting but he has not decided if he will pursue it.  
"The superintendency is a lifestyle change," he said. "It changes people's lives, I mean from where you go to the grocery store to walking your dog and so that decision to do this long term will be one that I have with my family."  
Per his contract, Ray will move into the interim superintendent role on July 1 and will remain in that role until a permanent superintendent is selected.  He will return to his current role as deputy superintendent and board secretary unless he is chosen as the next superintendent.  
Logan announced her resignation from the district in December to be closer to her family on the East Coast. Her term as superintendent ends June 30.