Wild West meets "Grand Theft Auto" in "Red Dead Redemption" Prequel
Graphics, storyline all receive A+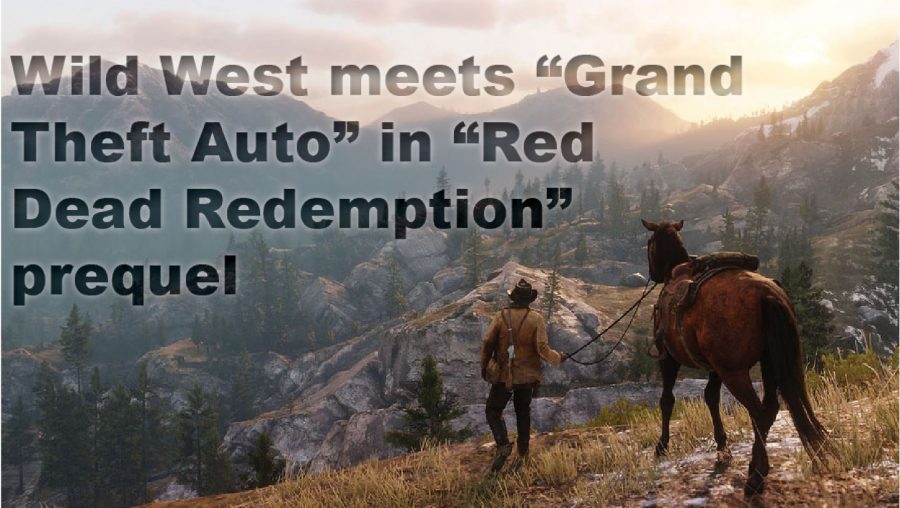 Alexis Hernandez Silva, Reporter
December 14, 2018
-Review-
After seven long years in development, "Red Dead Redemption 2" has finally been released and it is outstanding in every possible way. The game is set in 1899 America and follows protagonist Arthur Morgan and the Van der Linde gang. The plot centers around Morgan and the gang on the run after a failed robbery in the western town known as Blackwater.
The gang deals with federal agents, the nation's top dog bounty hunters and of course mother nature herself. All of these things test survival skills to see if the players have what it takes to be an outlaw.
Despite what it seems like, the game isn't all running and gunning. There are many other elements to "Red Dead Redemption 2" that makes it so interesting. It has a vast open western world to explore. With no cars or planes, players are forced to use horses, trains, wagons and boats to get around the map.
"Red Dead Redemption 2" is beautifully detailed with Rocky Mountains, glistening rivers and lakes, enormous canyons, eerie caves and bone chilling swamps that players don't want to venture around during the night.
The game keeps players engaged as they must always be on the lookout for any wildlife because many of the game's animals will try to eat the characters alive or simply kill for pleasure. Hunting and skinning animals pays good money, especially if it's a legendary type of animal that players can encounter throughout different areas of the game.
Every mission is unique, and they never feel repetitive, further adding that extra interesting factor in the game. The characters are very well built with their own individual personality and stories behind them. As the game progresses, players can't help but feel attachment to the character and the hope that nothing bad will happen to them.
"Red Dead Redemption 2" has a lot of new mechanics added to the game. These mechanics make the game run smoothly throughout the world. Despite improvements, there are quite a few glitches here and there, but nothing too concerning.
Some of glitches can actually be funny to witness such as watching the character's horse walking above the ground or accidentally falling through the game map. Other than that, the game has no problems involving the story, graphics, sound effects or action.
As players travel through the dangerous roads and plains of the Wild West they might come across an Easter egg or two. Countless references are scattered within. A few of the main ones are the UFOs, a skeleton of what could possibly be a yeti or Bigfoot in the snowy mountains or the witch's cauldron in Grizzly's East.
Rockstar Games adds elements of action, comedy, guilt, betrayal and trust to really give off that wild west feeling. Even the game's sound track is full of western themed melodies to make you feel like a real outlaw while robbing trains and having shoot-outs with the law.
Anyone who loves Grand Theft Auto will die for this game. At it's core, "Red Dead Redemption 2" is a thrilling, action packed game worth playing countless hours of. The game contains plenty of jaw dropping graphics, a wonderful sound track and a well-executed story.
"Red Dead Redemption 2" truly lives up to its hype and was worth the seven year wait.