Students question if school is prepared for active shooter situation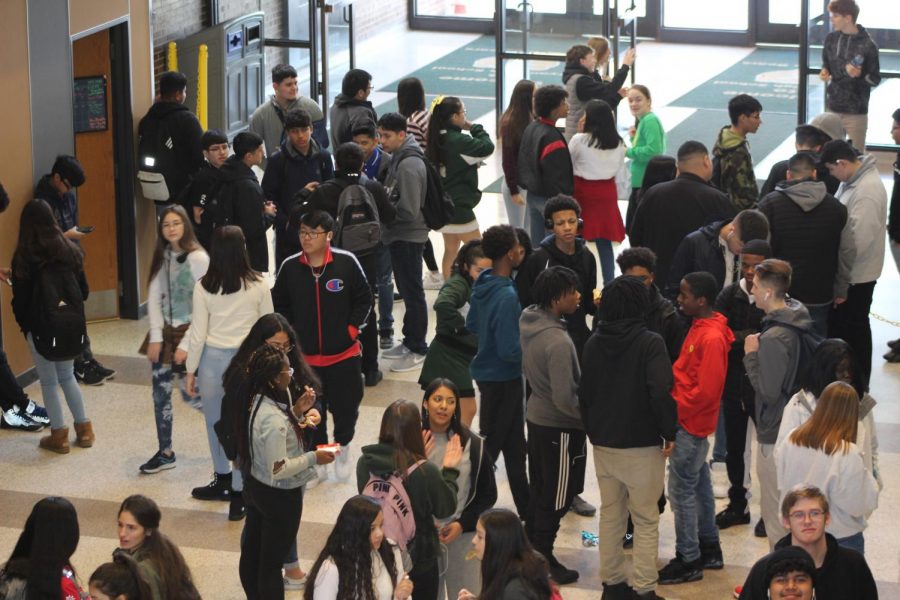 One year. One year has passed since the Marjory Stoneman Douglas High School massacre in Florida. After that, many students from several Omaha Public Schools decided to take action. Walk outs and protests became common place with students demanding change.
Students called for gun control, more security and safety in schools, and promoted voting.
"I remember how empowering it was to see so many people from our school marching to the stadium," senior Gabreelah Buggi said. "This is something that directly affects us."
Since then, the school and the district have made attempts to increase safety, especially in the event of an intruder or shooter.
Those attempts this school year include: staff emails, "In an emergency" posters posted around the school, and one lockdown drill during a second block.
However, those emails only addressed: staff members with students in classrooms, staff members in plan areas and staff members in common areas. They did not address what procedures to take if there were to be an intruder or active shooter during passing period, lunch or before or after school when hundreds of students are confined to the hallways and the cafeteria.
If there was a shooter, "a lot of students would be running around trying to find a way out, probably some of them being injured or killed," junior Karen Mejia said.
In fact, when 20 teachers were asked if they recalled any training for the event of an active shooter during passing period, lunch or before and after school, 70 percent said no.
The lack of training other than emails and posters has left many students wondering if Omaha Public Schools is prepared if a real threat was in process.
With no drills in place to protect students during passing periods, lunches or before and after school, students also feel like there needs to be a change.
"Shootings or any scenario that causes a lockdown can happen at any moment, why would we only prepare ourselves for one of the many times we could go into a lockdown?" junior Ashley Roth said.
Students also feel like not enough has been done.
"They're [the signs] not effective," Mejia said. "I hardly even see one sign around the school. Students just walk by, they don't really see what's on the walls."
Lack of students being taught what to do in a crisis revealed itself earlier this school year when a lockout took place right before the school day ended. The bell cut off principal Robert Aranda's announcement about the lockout, causing students to leave class like normal at the 3:05 p.m. bell, only to be faced with teachers yelling to go back into the classrooms.
"As I started to leave CREW everyone was yelling for us to go back inside," Roth said. "Then when I went back into my CREW class everyone was up at the top, we were in a lecture hall, laying down. I started to panic and cry because I realized it was real and my sister had just walked off and I had no clue where she was."
While the lockout was caused by a disruption at Gross Catholic High School a few blocks away, and no students or staff members were harmed, most would agree that there was a lack of communication about what was going on.
"There were kids coming back in and we were trying to take them all out and then it was like 'no they have to come back in' and no one knew what was going on and it was just very confusing," drama teacher Jodi Hazuka said.
The technical difficulty in the announcement of the lockout was explained by OPS Director of School Safety Donald Morrison.
"Depending on the age of the building, the system that was put in the building etcetera, so far as a bell comes on during the announcement, I think in a lot of situations the bell will overrule that," Morrison said.
The school is not alone. Other OPS high schools such as Omaha South and Omaha Burke have not had any drills during passing periods, lunches or before or after school.
"It's hard to drill during those particular events," Burke High School drill coordinator Andrew Walters said. "You can never really drill for what exactly would happen because each of those circumstances would be quite unique."      While there haven't been drills during lunch, passing periods nor before or after school, the school's administration is open to working with students to possibly change that.
"We can work together at it, that way it's not just the administration or teachers saying, 'Hey here's what we're doing,'" assistant principal and drill coordinator James Cunningham said.
The district is also looking at potentially making some changes when it comes to lockdown and lockout drills.
"We are looking at increasing the amounts, but every building is expected to practice lockouts and lockdowns, but for schools to be as safe as possible students should always communicate to teachers about what they hear around the building," Morrison said.