Senior prepares for Olympic trials, on path to join 2020 USA boxing team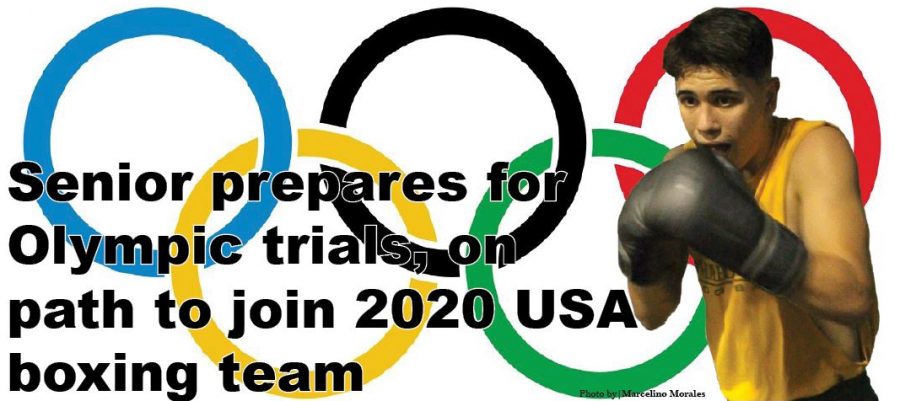 With the 2020 Olympics approaching, one student feels ready to take on the challenge of becoming an Olympic athlete. Senior Jonathan "Johnny" Montalvo has been preparing since he was 10 to make a name for himself in the boxing ring.
Montalvo has a record of 35-14 in the ring and has been training with his coach, John "Yano" Glatagkos from Boston, for seven years. His father, George Montalvo, has also been by his side since the beginning and is Glatagkos's assistant. While Jonathan Montalvo has had support from his family, friends and girlfriend, these two have helped him become better skilled.
"I definitely see something special in him and it's the desire to win," Glatagkos said. "He's gotten better over the years, but there's always room for improvement especially when he's trying out for the Olympics," Glatagkos
said. "Otherwise he's a solid athlete."
The 2019 Western Elite Qualifier & Regional Open Championships in Reno, Nev. in March is the first step Jonathan Montalvo must take to be in the Olympics. This is one of two tournaments that he must place top two in. If he does that he'll go to the next tournament in November. If he succeeds, he'll have a chance to make the USA boxing team at the Olympic trials.     "He trains hard, he doesn't give up, he's a good fighter and a tough kid," Glatagkos said. "He has all the makings of a champion for sure."
George Montalvo has been by his son's side so name can be known as a great athlete.
"He gets inspired when he takes a loss and I think that's what inspires him to push a little more," George Montalvo said. "He has all the potential and the dice have to roll our way."
Jonathan Montalvo is known in the school as a great athlete and is a part of the school's basketball team. Still, he's determined to become better and focuses on making his weaknesses his strengths.
"I need to work harder on the things that I need to and not necessarily the things that I want to," Jonathan Montalvo said. "If I work on the things that I know are my weaknesses I know I'll be a greater fighter."
If he makes it to the Olympics, he will be in the company of Terrence "Bud" Crawford, a three division world champion, as Bear alumni who made it boxing.
"Not everyone can say they've even been to the Olympics, but a lot of people can't even say they've been to the Olympic trials," Jonathan Montalvo said. "I want to be one of those people that says they've made it to the Olympics. But to be able to go and run, it's an amazing opportunity. It makes me feel that I'm a special type of talent."