State Tourney
Five bears punch ticket to "Big Show"
Yesterday morning five wrestlers and their coach woke up prepared to be at the CHI Health Center by 2:30 p.m. to weigh in for the first round of NSAA State Wrestling Championships.
Seniors Noor Salat (113) and Jaylon Walker (220), junior Mohamud Abdi (106) and sophomores Tobin Wigender (138) and Chase Pokett (170) got their ticket to this weekend's big show last weekend at the Class A Districts held at Papillion La Vista high school.
"We've been bringing it at tournaments and working hard," Walker said.
Both Walker and Salat came out on top as champions for their weight class. This being the first time to happen since the bears 2011 season.
"Jaylon's dominate as ever; Noor is really showing why he's one of the best in his weight class," head coach Jason Susnjar said.
While Abdi fell just short as a runner up and with Wigender placing 3rd and Pokett placing 4th. Overall, the team racked up 110 points to place 5th.
"I was fairly happy and felt good after district's," Susnjar said.
While the team was happy to get five qualifiers, there were some heartbreaking end of the season losses. Senior Abdi Mohamed, a state qualifier last year didn't make state.
Sophomore Teddy pocket and Angel Reyes juniors Fabien Reid and Jake Schoenauer fell short in what is considered a heart break round.
"You win you go to state, you lose you don't," Susnjar said. "We're right there and luckily for those guys we got another year to develop."
They started the year with the motto of "Band of Brothers," and it is their brotherhood, and sisterhood that helped them see many successes.
On Feb. First junior Dominique Aguilar (220) and Briana Salinas (130) attended Nebraska first ever girls state competition ending in a second-place finish for Aguilar and fifth place finish for Salinas.
"Dom's been with us for three years and she finishes second which shows her dedication and work ethic for the sport," Susnjar said. "And Briana coming first year and performing really well with the ladies, which is awesome."
Alongside, both Mohamed and Salat have reached 100 wins this season while Walker is just two wins away from accompanying the wrestlers.
"It just shows the effort and what you can actually accomplish if you put in the work," Susnjar said.
Today the tournament will proceed starting at 12 p.m. this being the constellation round. Then at 2:30 p.m. undefeated wrestlers will compete, with two wins wrestlers automatically place as they proceed to the semifinals starting at 5 p.m. Tomorrow the championship round will occur .
About the Writer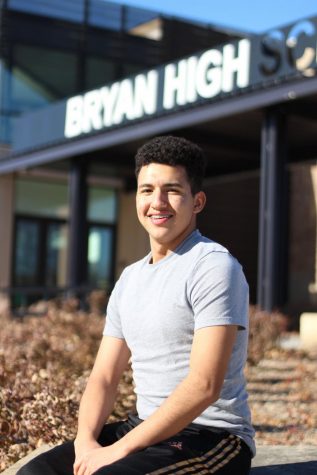 Angel Garcia, Section Editor
Angel Garcia is a junior and this is his second year on the Newspaper staff and he is one of the section editors. As a section editor he is responsible...